Welcome to Mobile Disruptors!
We look forward to helping you grow your new business! This Getting Started Guide will walk you through the initial steps of launching your business.
Contacting Us
Now that you have purchased your license, all further contact should be done with support@yrkatech.com.
Be sure to add us to your contacts to ensure that you receive our replies. That's the number one reason for miscommunication when first signing up.
Also, please understand that we handle requests in the order in which received.  Our normal hours are 9am-5pm ET Monday thru Friday.
Five Easy Steps to Launch Your Business
Step 1: Purchase a Web Domain
The first step in rolling out your new business is setting up your website! To do this, you'll need to purchase a web domain.  We recommend using GoDaddy because they are really easy to set things up on so that's why they will be the focus of this guide.
The following instructions will be a step-by-step guide for setting up your website using GoDaddy. If you purchased your domain elsewhere, you can skip to the section on General DNS Instructions. We highly recommend using GoDaddy unless you have a solid understanding of how to set up DNS settings.
Search for a domain and purchase it
You can start by looking here for a domain. Or you can check out https://www.godaddy.com/domains/domain-name-search. Enter your desired website name in their search. GoDaddy will show you if the domain is available. If not, you will see similar variations to choose from.Review the search results. If your first choice is available, your chosen domain will appear at the top of the page. Otherwise, review similar options or try a new name.
Once you find an available domain you can now click "Add to cart" and a summary of your basket will appear on the right side of the screen. They usually recommend adding on domain privacy protection usually for about $9.99 a year and we do as well. What that will help with is instead of the domain being registered directly in your name, it is instead done through a proxy with GoDaddy so that your information isn't floating around out there on the internet. Anytime you purchase a web domain, your name, address, phone number, and email are available to anybody on the internet looking to see who registered domains. You'll find that without it, you'll almost always start to see more spam emails and phone calls sometimes within a matter of hours. You can choose to bypass this option, but it's very much recommended. Once you finish purchasing your domain you can continue down to step 2!
Step 2: Make DNS Changes
Navigate to domain settings
1) After completing your purchase, navigate to the domains section by clicking on the "Domains" tab in the upper left corner of your GoDaddy dashboard.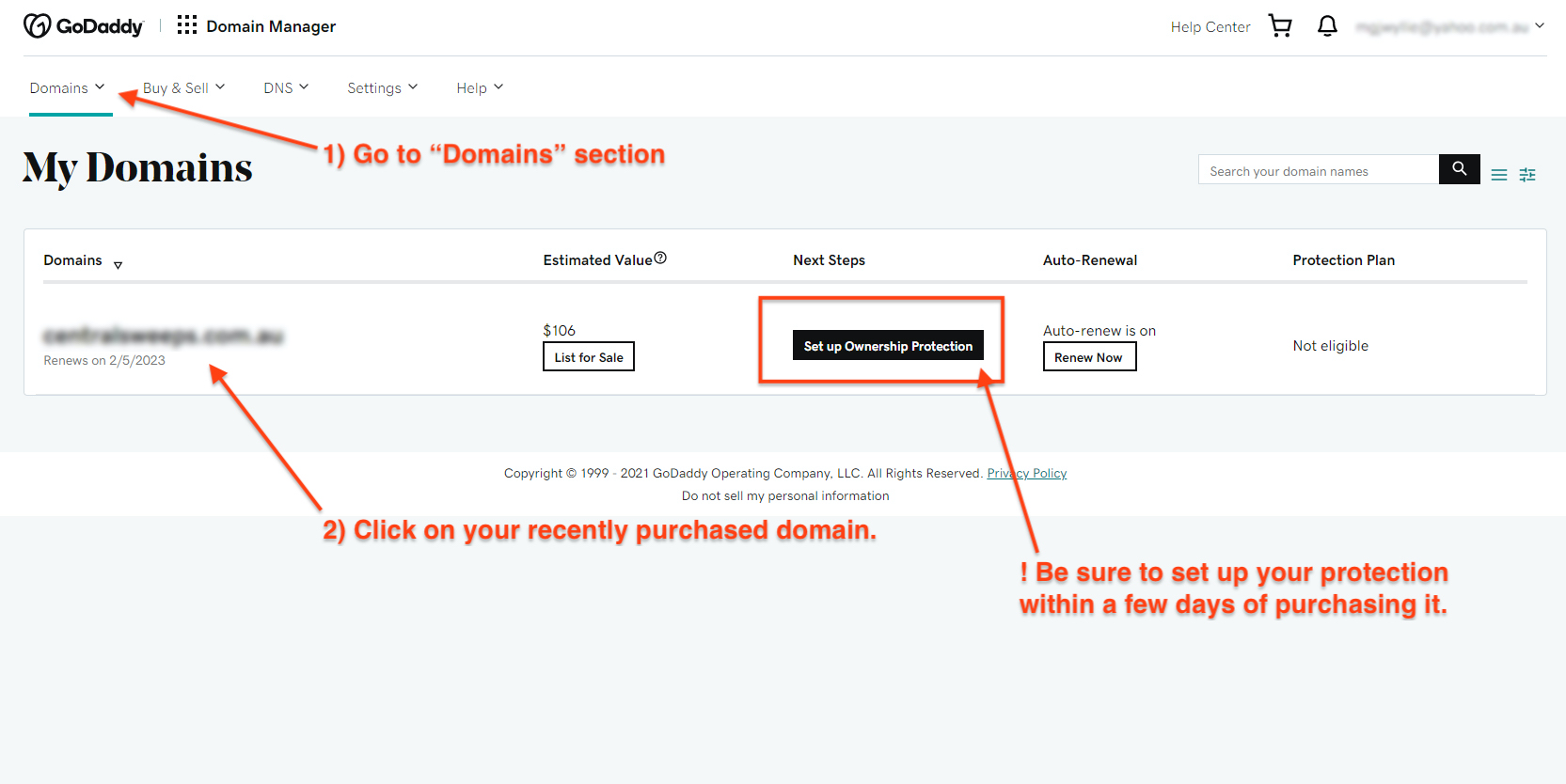 2) Click on your domain under My Domains that you wish to set up to be taken to the next screen to make the DNS changes to point your domain to your license(s).
! And one important thing to note, if you did purchase the domain protection that we recommend, be sure to set that up sometime within the first few days of making your domain purchase, because if you don't do it within a reasonable amount of time, GoDaddy will have to disable your domain until that's been done. You'll also see a big yellow box on the next few screens as a warning about setting that up. So be sure to do this when you can, but it isn't integral to setting up the domain to point to us.
Scroll down to the additional settings section, and click on "Manage DNS" which is located on the right side.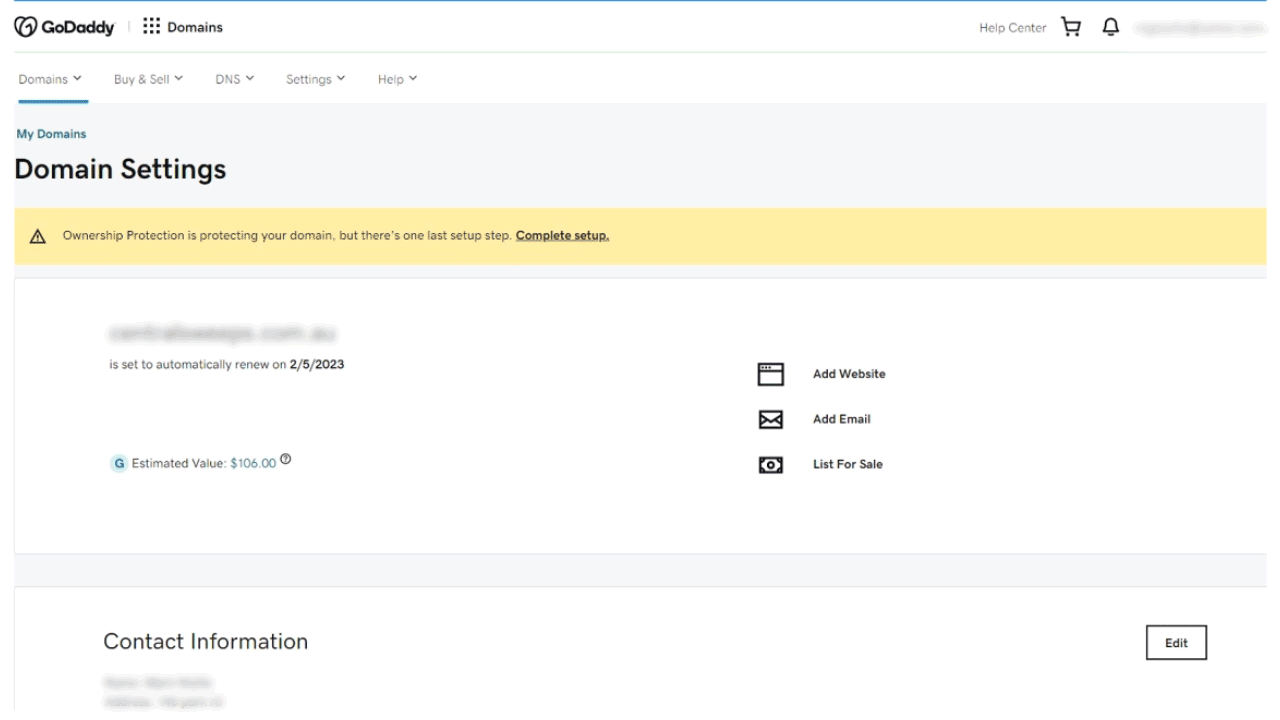 Make changes
First, you will need to edit your main "A" record, which will allow the domain you purchased from GoDaddy to talk to our servers.
If there is already an A record with the @ symbol in there pointing to a "Parked Page" remove that. And if there is a CNAME record with www for the name, then you can skip the step below when adding in the www record.
Now to add 2 new records using these steps:
1) In the "Records" section click the blue "Add Record" button.
2) For "Type" choose "A", and for "Host" type in the @ symbol.
3) For the "Points to" box use the IP address: 13.58.68.177
4) Set the TTL drop-down box to 1/2 Hour (min).
5) Click the blue "Save" button.6) Repeat steps 1-5 1 more time, but on the second time type www into the "Host" box. Keep the "Points to" IP address and TTL boxes the same.
General DNS Instructions
Even if you did not purchase your domain from Go Daddy, the setup may be similar depending on your domain provider. If you aren't able to figure out how to add in the necessary records and would like our assistance, here are three possible options if you'd like our assistance in setting things up for you.
Namecheap
Adding DNS records to Namecheap is very similar to GoDaddy so you can use most of the instructions above to accomplish the task. You'd just find your domain, and then go to the "Advanced DNS Records" section and then use the "Add New Record" button to add in the new records.
If you purchased your domain(s) on Namecheap and wanted us to help set it up for you, you can follow the instructions on this link below to grant us access. Just use the email help@mobiledisruptors.com and we'll be able to log in on your behalf and set things up for you.
https://www.namecheap.com/support/knowledgebase/article.aspx/192/46/how-do-i-share-access-to-my-domain-with-other-users
Once you've done either of the things above, skip to step 3 below and email us your domain.
Google Domains
Adding DNS records for Google Domains is also similar to GoDaddy. Except with them you'd navigate to the DNS records area and find the "Custom Resource Records" section. There you would add in the same DNS records from the GoDaddy instructions.
Once you've done either of the things above, skip to step 3 below and email us your domain.
Have Us Assist You
If you would like our assistance with setting up your domain for you, then depending on where you purchase your domain, you can follow one of the below instructions to grant us access.
GoDaddy
If you purchased your domain through GoDaddy, you can grant us access by following these instructions:
-Log into your GoDaddy account-Click the silhouette image in the upper right corner of the screen-Select "Account Settings"-Click on the box that says "Delegate Access"-Under "People who can access my account" click on "Invite to Access"-Then type in SocialOwl as the name and help@mobiledisruptors.com for the email and invite us to be allowed to manage your domain for you.
It may be necessary that you'll have to take one extra step that GoDaddy has started to introduce to newly created accounts on GoDaddy. This sometimes has to be done after we accept the access, but go ahead and do it before because we've seen it happen where you don't have to wait for us to accept the access. If we need you to do it again, we'll follow up with another email after accepting to let you know if it might have to be done again.
You'll want to go to this URL: https://dcc.godaddy.com/ or find the "Domain Manager" on GoDaddy and follow the above instructions.
Then skip down to step 3 and email us your domain.
Google Domains
Follow the instructions on this URL: https://support.google.com/domains/answer/7179397?hl=en
Just add in help@mobiledisruptors.com as an account that could have privileges and we can go in and help you out that way. If you do this, skip down to step 3 and mention in your email that you granted us access through Google.
Namecheap
Follow the instructions in the below link you can grant us access to your Namecheap account and then we'd be able to make the necessary DNS adjustments for you.
https://www.namecheap.com/support/knowledgebase/article.aspx/192/46/how-do-i-share-access-to-my-domain-with-other-users
Just use the email help@mobiledisruptors.com and we'll be able to log in on your behalf and take a look at things.
Then skip down to step 3.
Other Domain Hosts
Since there are so many different possible domain hosts out there we can't include instructions for them all. But if you're not able to figure anything out on your own or if you'd like us to double-check your work and would like to share your login credentials to your domain host, we recommend using this free secure note tool here:
All you have to do is put in the URL where I'd have to log into, and provide the email/username and the password and then click "Create Note" and then copy the link that is generated and then email us that link to support@yrkatech.com along with your domain and we will follow up with you.
Doing it this way makes it super secure for you to be able to send us your login credentials so that nobody else could potentially see them since once we open up that secure note it's immediately destroyed never to be seen again.
Step 3: Email Us Your Domain
Once your domain changes have been made, email your domain to help@mobiledisruptors.com
Additionally, if you would like assistance in setting up your domain or if you have a different domain provider, you can use the tool mentioned just above to email your domain credentials to support@yrkatech.com and we will be glad to make the changes on your behalf.
If you have multiple licenses, be sure to identify which domain goes with which platform.
Step 4: We Will Email You Back
Once we receive your domain, we will get it set up and send you two separate emails within 48 hours. One will contain your credentials and the second one will be a reply to your original email with additional instructions.
If you don't hear from us, as mentioned before, be sure to add help@mobiledisruptors.com to your contacts and check your spam email box.
Step 5: Create Your Custom Logo (Optional)
Now that you have a website, you'll likely want an eye-catching logo for your business. We have a great resource to help you create something unique and personalized!The Logo Company custom designs logos to meet individual business needs. You'll be put in the hands of a design team that can help create a logo you love, with unlimited redraws and revisions available at an affordable rate.

Header Logo Example 1
Just make sure that your logo has big enough lettering in it so it can be readable and make sure it's more horizontal than verticle as you can see the space across the top of the websites can be fairly limited.
If you do get your own logo created, no need to email it to us, you'll be able to upload it yourself as soon as you're able to log in!
And as we've mentioned before, if you have any questions at all please feel free to email us a support@yrkatech.com, and be sure to add that email as a contact in your list of contacts!