It is no secret that the average person spends a significant amount of time on their mobile phone. Given that over 90 percent of Americans are smartphone users, business owners now have marketing opportunities they could have never dreamed of in the past.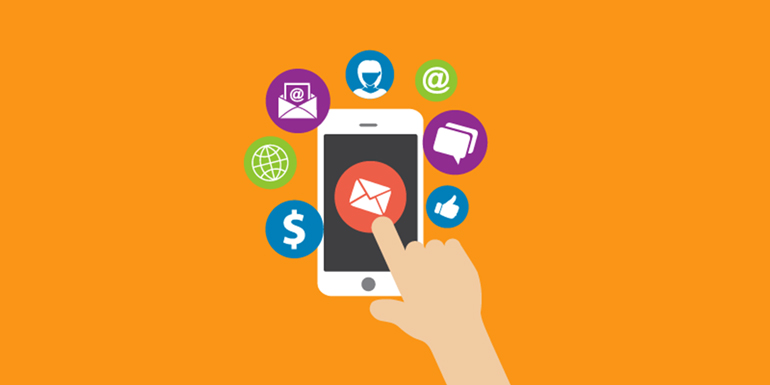 Creating a mobile website and a mobile marketing platform are now incredibly important for the success of any marketing strategy. Whether you would like to increase your business's bottom line, or build brand awareness, it is important that you are engaging with existing or a potential customer through mobile marketing.
To help you build an effective mobile marketing strategy, we have provided a straightforward guide to mobile marketing. We will explain what it is, why it's important, and what steps you need to take on a mobile platform to build a strategy that works for your business.
What is Mobile Marketing?
In basic terms, mobile marketing describes the efforts taken to share a brand or business in a way that is optimized for mobile technology, such as a smartphone or tablet. This is done by promoting brand-specific mobile apps, managing social media channels, and optimizing websites for mobile users.
A mobile strategy allows businesses to reach much larger audiences than they would be capable of connecting with a more dated desktop-based digital marketing strategy.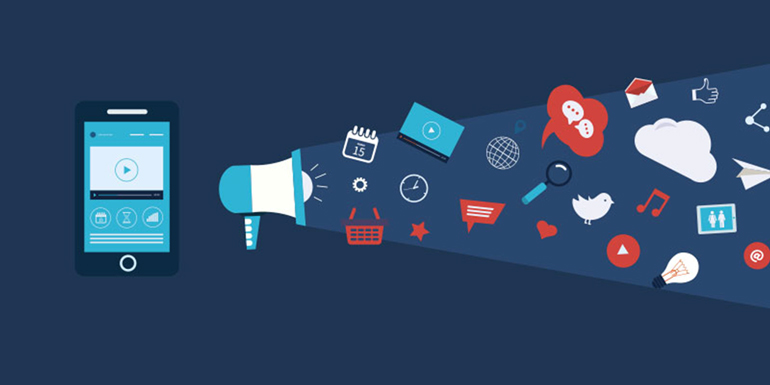 Why Are Mobile Marketing Strategies Important? 
From the perspective of a business owner, it is incredibly important that you recognize the ways your target marketing channel consumes digital content. Most people, especially younger audiences, spend more time browsing the internet on their smartphones than they do on laptop and desktop computers.
Not only are people spending more time than ever on their smartphones and tablets, they are now more comfortable than ever being a consumer and purchasing items on a mobile device. Most people are staring at their phones for several hours a day and your business should be taking advantage of this. Marketing campaigns that are specifically tailored for mobile viewers across various digital platforms are vital to your overall success and growth.
Creating a Mobile Marketing Strategy 
Building a mobile marketing strategy that works involves many steps. We have listed the necessary steps you need to take to create a well rounded and effective mobile marketing strategy that will help you build your brand and capture new sales leads.
1. Optimize Your Website and Landing Page for Mobile Users 
You want to make sure that potential customers can access your website from a mobile device. Optimizing your website for the smaller screens of mobile devices makes surepotential customers will not be turned away because they are having difficulties finding the information they need.
You want your website optimized for straightforward navigation from mobile devices and you want to make sure it also looks visually appealing. Research shows most people view a mobile site quickly and will exit if they cannot find what they are looking for easily. You also want to minimize loading time by using smaller images. Make sure any photos or videos you feature on your landing page can be viewed quickly from a smartphone.
Content that is easy to read will also work better for mobile device users. Consider bulleted text, rather than lengthy talking points.
Streamlining your website for mobile users will increase sales conversions and customer satisfaction.
2. Consider Creating an Integrated Mobile App
If you want to take your marketing effort past the mobile web, a mobile app is a great way to get your marketing message across and increase brand awareness. Building an app with integrating purchasing and ordering tools can help turn interest into sales. They are also an excellent way to push promotions, sales, and new releases directly to a potential customer. You can send a push notification and quickly inform consumers of a new sale or release, which is a great form of mobile advertising.
3. Optimize Your Email Marketing Campaign for Mobile Viewers 
Email marketing remains incredibly effective. However, you do need to make some slight adjustments to optimize it for mobile viewers. Make sure your emails look appealing and are easy to read from mobile devices. As with your website, you want to reduce load time and streamline clunky language.
Get to the point and use bulleted text to make sure people on your mailing list can quickly get the information they need from their smaller screens. Most people will quickly delete emails that do not work well from their phones.
4. Optimize Social Media Content for Mobile Devices 
Publishing relevant social media content is critical for the success of any digital marketing campaign. Given that most people access social media from their smartphones, it is critical that your social media marketing efforts are mobile-friendly.
There are several ways you can make your social media marketing more suitable for mobile viewers. First, you should develop a hashtag strategy. Hashtags encourage customers to engage with your brand across various social media platforms. You should also take advantage of popular mobile-specific social media platforms, such as Instagram.
Again, avoid publishing content that is overly 'wordy.'You want viewers to actually read and engage with what you have to say. Include calls to action and eye-catching images. Social media is constantly flooded with new content, so it is up to you to publish appropriate material that will be noticed.
Always be aware of emerging social media platforms and make sure your business has an active presence on those that are most relevant.
How Can Mobile Disruptors Help? 

Mobile Disruptors provides you with everything you need to launch and operate a mobile marketing business.
We will take all of the difficulty out of setting up and running a profitable business. You can sell your services to local businesses that would otherwise struggle to setup an effective digital presence.
Your entire sales website will be tailored around your specific brand and will be completely optimized for mobile viewers. We also offer ongoing training and support, so you will always be aware of emerging trends in mobile marketing and, more importantly, you will always have access to the latest mobile marketing software.
We provide you with everything you need to get an effective and profitable business off the ground. You can make money managing the social media accounts of other businesses, transforming their in-store Wi-Fi into a marketing opportunity, and much more!